Good Friday Morning Blog Hogs...
Has anyone joined the "
I Jiggle
(just a little less)" Challenge from Running Backwards in Heels? I did it 2 weeks ago and joined in on Week 3. I missed Week 4 and am joining back in on Week 5 - now! I feel like if I start this, then I need to share with you guys... and if I feel like I need to share with you then maybe I'll actually run.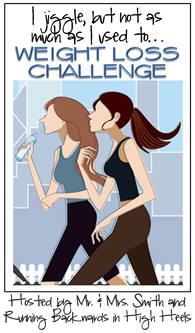 Right now, that's all I'm doing... running. This week so far I've run twice. I should have run more, but I was fighting a headache all weekend through Monday (excuses, I know) so we finally ran on Wednesday. You might notice that I wrote "we." If you didn't, I just pointed it out to you so now you do! So yes, I've corralled Mike into the mix. Don't worry, it
is for his own good
was his choice. So we ran...
Monday - Nadda
Tuesday - Nadda
Wednesday - 2 miles
Thursday - 2 miles
Friday - ?
Definitely Saturday - @ least 2 miles
I think that's a good weekly running status for now. Especially since my schedule is super crazy busy right now... I can barely keep track of everything that is going on. Skating 7 days a week, Stella & Dot, and my full time job... I'm getting a bit exhausted, but skating will die down here soon and then it will be summertime! Yay!
Thank goodness for the recent nice weather. It's made me want to run more. I just wish I had more time! This week I posted on facebook that I needed to find a way to get more sleep out of the sleep I get...or a way to feel more rested because I think at the moment I usually get just over 6 hours, which I totally understand is more than some, but I'm beginning to think it's not enough for me!
As for weight... it's not going down. I'm totally bumming. I even hopped on the scale today and it seemed to go up. Maybe it was my eyes and how tired I was this morning. BUT I know that if I keep with it, something will change. :) I hope.
So for now, I'll keep running...
Keep trying to make my portions smaller...
Keep trying to make Mike go with me...
Keep trying to run longer...
And Keep On Keepin' On.
Goals for next week:
Monday - 3 miles
Tuesday - Nadda
Wednesday - 2-3 miles
Thursday - 2-3 miles
Friday - Jillian's Shred?
Saturday 2-3 Miles
Sunday - Nadda
Happy Weekend to everyone!
I hope you enjoy your day with your mom's! I'm going to do a special post on Sunday for my mommy! :)
PS... I was watching a documentary called "
Don't Forget About Me
" regarding John Hughes. You should watch it.