Since we are having the GREEN theme this week...
I'm thinking of it today in the sense of making old things new again.
I've been needing a bulletin board in our office for some time now. I wanted to make an inspiration board!
I did not want to pay for a BEAUTIFUL one from Ballard or Pottery Barn so I decided to make my own.
I started with this cork board from Goodwill - $3.99 - SCORE!
I painted the outside a tan color to update the plain wood a bit. I just used an opal-ish color that I had in one of my craft boxes. I didn't worry too much about the edges on the cork part because I was going to be covering that up anyways!
I ended up choosing the green. While I LOVE the blue patterned fabric, I felt that it was too bold to coordinate with my drapes in the office where this would hang! Green it was - Fitting if I do say so myself!
Then I cut a large piece of batting (already had) to size and used spray adhesive to keep it in place under the fabric.
Once that was in place, I layed the fabric over, centered it as best I could, and then started edging... thumb tack edging that is. The thumb tacks were purchased from Meijer and were $1/40 tacks. I got some in white and silver to add a little contrast and interest.
And I kept the excess fabric there until I was ready to cut it around the edges of the board with a VERY SHARP Box cutter.
And VOILA! A New Inspiration Board for my office!
Total Cost - $14
---The Breakdown---
Tacks - 5 packs each color (just incase) = $10
Board = $3.99
Fabric = Free (already had)
Batting = Free (already had)
Paint = Free (already had)
And here she is in her new home...
Please don't mind the mess on the desk...
I try to straighten it up for my hubby, but it always gets messy again.
Linked Up With The Shabby Nest for her Frugal Friday Link Party!
Click the button to visit Wendy!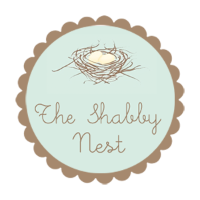 Happy Hump Day!