Here's the latest edition of Craigslist Finds.
I had someone over the other day and they commented on a piece I have and just responded "Craigslist." Which got me to thinking about how many items I do have that are from craigslist or goodwill. Is it time to move on or time to search harder? I know I need some items replaced, but I continue to search for something old that can either be repurposed or refinished or that is in good condition and beautiful!
So here we go...
Search words...
Armoire, Pedestal, $15, Dressers, Settee, and Vintage
I search all these in Furniture.
I usually check the "Free" listings too, but today there weren't any.
Here's what I found that I thought were good deals.
ARMOIRE
Check out this Armoire that is listed for only $35! WOWZA!!! Can you say on the cheap?!?! I mean what a steal. This could easily be painted and maybe add a stencil to it, and paper the inside. It could become a very, very cool piece.

 Here's another pretty decent deal! This looks like it might be from JCP, but I'm not sure...doesn't say. A very classic piece and already in white! And only $75. Not too shabby!

 And while this one is not my favorite and I probably wouldn't use it as a TV stand like suggested in the ad, it's a petite armoire which is what we are looking for. It could easily be sassed up to become a cute little accent piece that is functional! $50 is a good price too.

 PEDESTAL
I like this table. I'm looking at getting a pedestal table and am not opposed to refinishing one... Mr. K might be, but he doesn't have to know my plans just yet. This one is perfect... Great look, great shape, and even comes with the four chairs and a leaf. The only problem for me is that it's $500. That might be a great deal, but not in my budget. So I will keep looking...


I do very much enjoy this table and I think it is a good deal at only $100, but it's gorgeous as is and I really am looking for white or something to paint another color like gray possibly. Plus, it seems a little heavy for my small space. But again, love it.

 And here is the perfect table... for me... almost...
It's a cute, petite, good basic pedestal dining table. And only listed at $40. My only problem with it is that it doesn't have a leaf and I'd really like to have one in case we ever have a bunch of people over to eat. We always hang out at our kitchen table and I want it to be big enough. I have three siblings and two parents and tons of cousins and grandparents etc... and want them all to not feel squished (as much as this is physically possible in my house).

 $15
The perfect chair for the DIYer. Could probably be reupholstered easily and is a cute shape! And the best part about it is that it's only $5.
And here's a brass lamp to add to your "MUST SPRAY PAINT" pile... Oh, am I the only person that has one of those... oops! I think that's my entire garage!
But it's only $15 and is an easy transformation from Drab to Fab!

 DRESSERS
Nothing worth showing...
Seriously.
SETTEE
I think this would be a fun one to try to paint. I'm sure you'll all seen the painting of fabric in the blogosphere lately. I think the almost ikat pattern would be cool to change to blue or gray or something fun or funky like teal. And it's only $30 so it's one you could scrap if it looked totally awful! Actually thinking about it, this might be cool in my parents room if and when I ever get them to redo it...
And here's a good one too for only $89. GREAT bones and would look lovely in a fun and funky color with white trim! Wish I had a place for it because $89 is a steal! Oh well, in another life/house!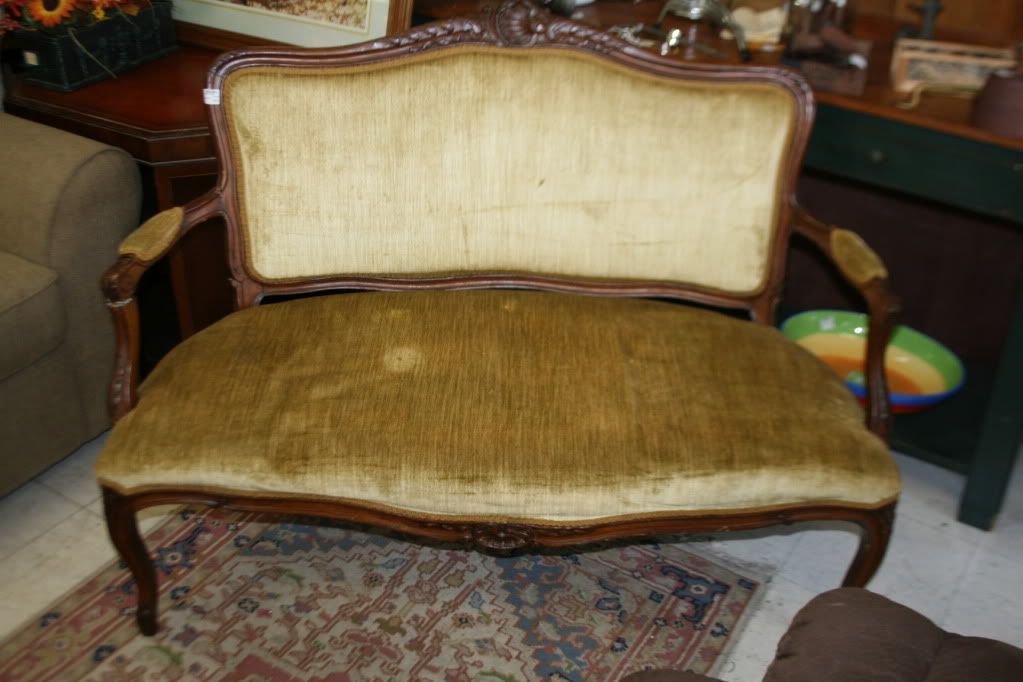 VINTAGE
Boo, nothing worth sharing either...
Well, that was fun to get my craigslist fix on. Now it's time to go over to Shopgoodwill.com and see what I can find! Can't wait to share some of the finds I've gotten on there in the next couple of weeks... some are gifts so I have to wait to post about them!
Thank goodness it's Thursday! YAY!!!